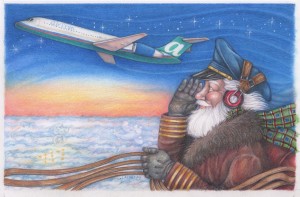 Seventeen years ago (February 1997 to be precise) a corporate pilot and a freelance artist sold their stuff (Bob called it "throwing it in the river"),  packed up their little girl and their dog, stuck a pin in a map, and headed to Florida. No official jobs to speak of, most people thought it was a crazy idea, but the thinking was – i could draw anywhere, and as long as there was an airport near-by Bob could find a job flying planes.
November of that same year, like a literal Phoenix, AirTran Airways emerged from the ashes of a previous incarnation with a new name, a new logo, a new slogan, and a new business model.  And on May 4, 1998 former Corporate Pilot Bob began Airline Pilot training at AirTran, learning to fly the DC-9 – the jet his father had originally captained at Delta.
December 1999 i created the first flying-themed Christmas card, depicting a cheery, martini drinking, cigar smoking Santa Claus Slipping the Surly Bonds in an open cockpit bi-plane.  Other Santa-as-Pilot illustrations have followed since but it seemed particularly fitting to revisit that theme this year because on December 28, 2014, AirTran Airways will become the thing of legend and old pilot stories, the name and airline officially leaving the skies and becoming a chapter in the books of aviation history.
The scrappy little "Airline That Could" was always something of enigma. It began life with the unfortunate "Formerly Known As…" postscript attached to it's name, and years after that affiliation faded from memory it still wasn't very well known among the general flying public. Despite growing into one of the country's strongest low-cost carriers, and consistently ranking in the top 10 in airline performance and customer satisfaction, only it's most loyal passengers ever seemed to know what it was. When Bob would say he was a pilot for AirTran, the inevitable response would be, "Air TRAIN? Is that some sort of freight company?".
But for the folks that counted, Bob's little "Step-child Airline" (as he affectionately calls it) was known and respected as an innovative air carrier whose ticket agents, gate agents, baggage handlers, rampers, mechanics, flight attendants, dispatchers, and pilots were (and are) some of the most highly trained and consummately professional in the industry.  AirTran developed a state-of-the-art reservation and boarding process, and created the cargo smoke detection and suppressant system, as well as the shielded cabin doors, used by all US airlines today. After 9/11 the AirTran pilots unanimously accepted the minimum pay guarantee (essentially taking a pay cut) so that no employees had to be laid off or furloughed. And in another example of Comrade-In-Arms spirit, AT was the first airline to grant pilots from any and all other (ie: competing) airlines the opportunity to fly non-rev, or ride the jump seat, on AirTran's planes when they were attempting to commute to work or get home.
In 2004 the last DC-9 was retired and Bob began flying its replacement – the brand new, Boeing 717.  Sleek and fast, with a "glass cockpit" (no more needles and steam gauges, all computer screens), it became the sports car of the fleet. Every pilot's dream plane.
But all that success and innovation doesn't go unnoticed forever.  In 2010 another airline giant from the southwest announced acquisition of AirTran's personnel and fleet of 737s (sadly the 717s were not needed and would be phased out). Of course major business transactions of this nature do not happen overnight, and it takes a lot of time to integrate different operating procedures, and bring everyone up to speed on the new culture, so while the transition details were finalized AirTran, and it's "little jet", continued to fly under it's own name.  The Ghost Squadron (as it is unofficially called) of 717s grows increasingly smaller and at the end of December, the last of the planes will be retired.
But not forgotten, or abandoned.  In a fitting piece of coming full circle Bob's 717s are going to Delta, the airline where Bob's dad began his flying career and where Jesse currently cares for the traveling public.  The vertical stabilizer may be wearing a Widget rather than a lower-case "a", but it's still the same feisty little sports car of a jet and it has already won over its new flight crews.
On December 28 the last 717 Atlanta-to-Tampa, Florida trip has been designated AirTran Flight 1 and will retrace the route taken by its predecessor airline's first flight in October 1993.  But this last flight also bears another fitting historic date and destiny because 100 years ago, on January 1, 1914, the first commercial flight took place when pilot Tony Jannus flew a passenger from St. Petersburg, Florida to Tampa. The first time a ticket was sold to the general public for point-to-point scheduled air travel.
So from Critter (the Valued predecessor Jet airline's call sign, whose logo makes a special guest appearance on the card) to Citrus (AirTran's call sign) to a brand new radio designation, "Little a" will never be forgotten. Forever dancing the skies on laughter-silvered wings and slipping those surly bonds.
To paraphrase AT's first slogan – You were, and are, something else!!!       LaK 2014