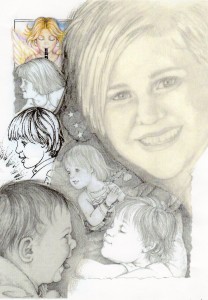 2006 was the year Jess turned 17, she would be graduating from high school and heading off to college the next year, so naturally the 2006 Christmas card had to be all about her and i thought it would be fun to show all her past holiday incarnations. So the six "Memories of Christmas Past" also featured on this card were: The Great Granddaughter – 1989, BELIEVE… In the Dreams of a Child – 1992, Chanson Pour Les Petits Enfants… – 1993, Hold Your Breath… Make a Wish… – 1994, Children of the Sea & Sky – 1995, and Behind the Dolphin Smile – 2000.
The background story included with the card read ~
While i feel fairly certain this year's card is pretty self-explanatory i can never seem to pass up the opportunity to tell a story. So with your indulgence….
For those new to this annual tradition, i have been designing personal greeting cards since 1977, when i was given the assignment in a college printing class. Since that auspicious beginning there have been two adaptations of "A Christmas Carol", two renderings of a partridge in a pear tree (tho once it was a pelican), anthropomorphic animals of every shape and description (nothing says Christmas like dancing Renaissance ermines), an inspired Star Wars/Good King Wenceslas design ("Master Qui-Gon Jinn looked out, on the Eve of Boonta") and, of course, Santa Claus: Troubadour Santa, Pelican Santa, Amish Santa, Wizard Santa, Surfing Santa, WWI Flying Ace Santa, Casablanca (ie: H. Bogart) Santa, Pirates of the Caribbean Santa, and a 4-part compilation Celtic god-Scandinavian legend-medieval saint-Victorian Obi-Wan Kenobi Father Christmas Santa(s).
Pleased as i am with all those cards, however, the ones closest to my heart are those six that featured Jesse. Since 1989 she has been my Muse and Inspiration. My guilty-pleasure-obsessive Star Wars/LOTR/Pirates of the Caribbean/Queer Eye/Diagnosis Murder/West Wing co-conspirator. My travel buddy. The light in the window and my very best friend. In 1991 she inspired the very first Christmas story i ever wrote and although she is about to take flight on adventures of her own design, charting her course by her own magical star, she will always be my little girl, and my own beautiful Christmas angel.
"You see? You see? It's magic, Daddy!" Jesse squealed.  "You're right, honey…" her father answered, "it's Christmas."  Christmas Story 1991
To Christmases Past, Present & Yet To Come    LAK 2006
As i wrote inside the card, and still believe today (and every day) ~ Treasure the moment. Celebrate the magic. Smile, it's Christmas!