While the actual definition of the phrase "hue and cry" refers to a public clamor or stir i mean it quite literally.  HUE, "as in a particular gradation of color", often makes me CRY!  I have something of a love/hate relationship with color in that… i really don't know what i'm doing when it comes to working with it.  Pretty ironic given what i do for a living, and if one has looked at the various images in my portfolio and books it might sound a bit disingenuous (given all the colorful stuff in there), but really – if things look nice it has a lot more to do with luck or accident than any real grasp of the concept on my part.   I'm truly much more comfortable with a trusty #2 pencil (Paper-Mate Mirado Black Warriors are the best!!).
That being said, i should clarify that i am comfortable coloring specific items or objects – like animals or plants.  If something has to look like a particular thing, or match an exact reference, i'm your gal!  That kind of coloring is fun and there is nothing i enjoy more than a faux finish or trompe l'oeil image.  Where i get into trouble is doing detailed backgrounds or coming up with mood and shadow and tone.  In the case of "Fur & Feathers", however, i must admit my chapter title is misleading in that i don't think i cried at all during the process (i just wanted to use the phrase).  That's not to say there wasn't the occasional emotional upheaval (i am a "temperamental artist" after all)  only that coloring F&F actually didn't bring the usual angst.
For me, choosing the color palette is always the most difficult part.  NOTE: I know we've been here before with this image, but i thought a bit of up-close detail might help explain the mental process.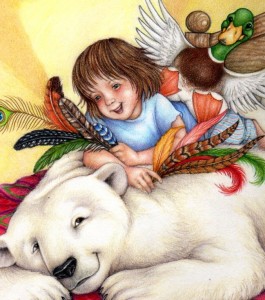 As mentioned earlier, the color of the animals and the individual feathers – all established in nature – was easy (and those feathers are all based on real natural patterns, by the way, with a few costume ones thrown in)  and i had already decided what i wanted Sophia's pajamas to look like (a nod to the 10th Doctor from the "Christmas Invasion" episode of Doctor Who) the rest was something of a blank.  I really had no idea what the background – specifically, Sophia's room – should look like, or what color it should be.
I did know i didn't want her room to be stereotypically pink and girly so i looked through all sorts of home decorating magazines and books to get inspiration and eventually came across a picture of a room with lovely warm yellow walls and this great red and green and pink bedspread.  Feminine without being fussy it fit my needs perfectly – i just changed the headboard and spread.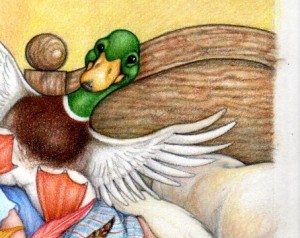 As i recall, the headboard in the magazine photo was a white iron thing, a little too flimsy and – to be perfectly honest – complicated to reproduce multiple times.  A nice wood headboard not only added a bit of a masculine touch (for boys in the audience) but creating wood finishes is quick and easy, and when you're coloring 13  17″ x 10″ spreads you grab some ease wherever you can find it.
Of course whatever time i saved coloring a solid wood headboard was off-set by the elaborate bedspread i ultimately designed.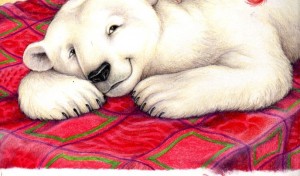 The spread in the reference photo had a flower pattern and while it was very subtle i didn't want a floral image.  Instead i decided to go with alternating squares of animal and feather patterns as little visual play on the fur and feathers of the title.  Of course once you commit to a pattern you have to reproduce it every time that particular image comes up throughout the book, but i often use a sort of assembly-line approach that serves me well  for those circumstances.  When an image repeats from page to page i tend to go through and just color that specific image each time it occurs – first all the bedspreads, then all the times Sophia showed up, then all the polar bears and ducks, then the sewing basket, etc.  Once all the major foreground items and characters are done i go back and color in the background.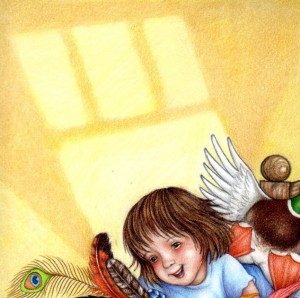 Because i had to leave room for the title there needed to be a clear space at the top of the page but i wanted to convey the idea of a wall in the background, as well as add a little textural interest.  I thought of all the neat patterns that can appear on a bedroom wall from ambient moonlight or street lamp reflections and thought that would break up the area nicely.  That use of geometric shapes could then be applied to the background spaces throughout the rest of the illustrations.  Decisions made for the cover were then carried on throughout the rest of the book.
Color palette decided, and background issues resolved,  it was now time to go to finished art.