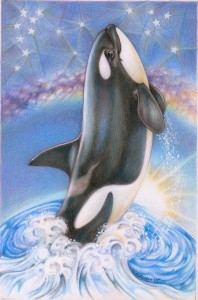 To be honest – i really didn't know what to draw this year.  2015 was kind of odd in terms of illustration inspiration. Many things happened… just nothing i could really wrap my mind creatively around. That's when i decided to just keep it simple and celebrate some very special people. Specifically those wonderful, talented, brilliant, caring, generous, dedicated, professionals i have the pleasure to call Friends, and the honor and privilege to call Colleagues. My SeaWorld Family.  My SeaWorld Home.
My SeaWorld 'Ohana.
It is a place that has been a thread running through my life since i was in high school (i STILL have the pearl i got at the original Pearl Diving pavilion). It was the first theme park we took Jesse to when she was 4 (where she preferred the dolphin stroller to the shows) and in 1995 she went to her first Summer Camp there.  Interestingly enough 1995 was the same year Bob and i decided to upheave our lives and started the process of moving to Florida (kind of a fitting, tho unintentional, mirror of life changes that occurred this past year). In 1997 i showed my portfolio to the Education Dept. and was given the opportunity to paint an amazing mural (the first one i had ever attempted). And  in 1998 i was invited to join this beautiful, magical, inspiring world.
A killer whale was the obvious image choice for this card and i reached back to the 1995 Jesse Camp/Christmas card for inspiration.  Celebrating Jesse's camp experience, it was the first time i featured a killer whale, and ironically i only just now realized, as i type, that it was exactly 20 years ago when i drew that first whale, never imagining all the ones to follow. Yet another instance of surprising associations finding their way into my illustrations. I start drawing and next thing you know, i've discovered all these unexpected links and connections. All these Threads.
For example, i still felt i needed another element to bring this whale idea to Christmas life.  And then i remembered the beautiful song, "Believe", written for the 2008 killer whale show of the same name. A song, and show, that Jess and i love, and still makes us cry (we have the DVD).
Reach for your dreams,
Always be true and
You'll be amazed
What they can do.
Just follow your heart,
Let it inspire.
Hope lifts you up;
Dreams take you higher.
Just open your heart,
Shine like the Sun now,
Reach out your hands,
Worlds become one now.
Think what a world this world would be
Follow your heart;
Let it inspire;
Hope lifts you up,
Dreams take you higher.
Think what a world this world would be… when you BELIEVE!
So to ALL our Friends & Family ~ Believe ~ my favorite word to share at Christmas.     LAK 2015