So, when i first started the blog about doing the illustrations for "Meet the Planets" i fully intended to write small excerpts describing the step-by-step process of each phase as i was going through them. I wrote three.
Now here we are – two years and two new books later – and i am only now getting around to writing installment #4.  Ah, procrastination thy name is Laurie!  Needless to say, the whole step-by-step, real time, follow the process idea has gone by the wayside, but that does not mean i no longer have tales to tell.  Oh no, no, no.  "Meet the Planets" still has a number of background stories very near and dear to my heart  that i want to share and i am going to continue plugging away at them as time and inspiration and creative literary muse permits (all while also starting a new blog series about "Solar System Forecast", the book that came out September 2012; and continuing additional installments of another new blog series about "Balloon Trees", the book that comes out any day).  There are only so many hours in a day, and a good portion of those hours inexplicably disappear into some space-time Black Hole also know as my art room, but given that a meteorite just hit Russia the other day, i really need to stop putting this off.
So to get us back into the swing of Planet things i thought i'd describe the research materials that went into making the art.  Or at least just list the variety of books and magazines, flotsam and jetsam, gimcracks and gewgaws that inspired the illustrations – because there was a lot of stuff!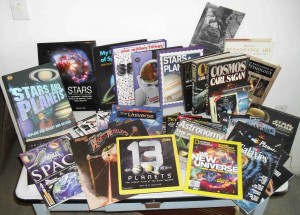 Books: 15
Comet – Carl Sagan,  Cosmos – Carl Sagan,  DK Eyewitness Books: Astronomy, Universe,  Gardner's Art Through the Ages – 6th Edition,  History of Renaissance Art – Creighton Gilbert,  The Illustrated  A Brief History of Time/The Universe In A Nutshell –  Stephen Hawking,  The Illustrated Timeline of the Universe – Richard H. Sanderson & Phillip S. Harrington,  My First Book of Space – Rosanna Hansen & Robert A. Bell,  Murmurs of Earth – Carl Sagan,  Stars & Planets – David H. Levy,  Stars & Planets – Exploring Our Galaxy and Beyond – Igloo Books LTD,  Star Wars Where Science Meets Imagination – National Geographic/Lucas Books/Museum of Science, Boston,  Time Life Student Library – The Universe,   The Usborne Illustrated Encyclopedia – Science & Technology
Magazines: 13
Astronomy (Collectors Edition) – Cosmos, Before There Was Light;  Discover – A Field Guide to the New Solar System;  Discover – Special Einstein Issue;  Discover Presents – The Whole Universe;  Kids Discover: Astronauts, Space Exploration, Galaxies, Solar System, Planets. Sun, Mars, Earth, Moon
CDs: 3
Holst – The Planets – Orchestre symphonique de Montreal, Charles Dutoit;  The Songs of Distant Earth – Mike Oldfield (inspired by the book of the same title written by Arthur C. Clarke);  Jeff Wayne's Musical Version of The War of the Worlds (inspired by the book written by… oh you know who wrote it).
I literally used every book and magazine listed above, listened to the cds while i drew, and also made tons of random on-line searches looking up additional information, but one of the singular most important influences actually came about by accident.
When i first got the manuscript for "Meet the Planets" i had some trouble deciding how to physically portray each of the planet participants.  Should they be human- (or alien-) esque figures, clothed in some sort of costume that represented the planet (like Jane Jetson, when she entered the Miss Galaxy competition representing Earth)?  Or should they be bobble-head type beings – big planetary face on top of a smaller, costumed body?
I was still undecided when i went to visit my daughter who was in college, in New York.  She had to go to an architecture lecture at the Cathedral of St. John the Divine  (the talk was about gothic architecture, of which St. Johns is a lovely example) and i was allowed to tag along.  We had just gotten off the subway, and were walking across the street to the church when i saw the most amazing statue in the park beside the cathedral. The Fountain of Peace.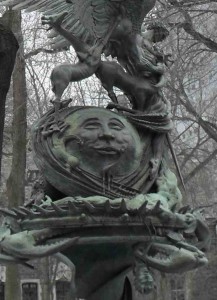 Talk about your divine inspiration.  A giant planet head (actually there are two, there's another one on the other side) supporting battling giraffes, giant crabs and angels. It was so crazy and surreal, and had the added benefit of reminding me of something you'd see on Doctor Who ( i am a huge fan.  More Doctor Who influences will be discussed in future posts)  so that just made the decision all the easier.  The planets would be done as big round "heads".  Essentially just as they are found in space – colorful spheres, only with facial features. And appendages (to hold whatever accessories they might need in the competition).
You just never know where inspiration will come from so you have to be open to anything.  This is why i love research!