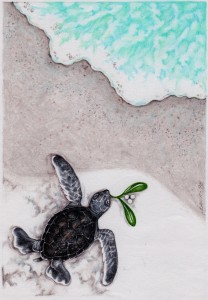 Several times since moving here i have had the great gift of seeing wild dolphins leap in the breakers and surf on the waves, free and playful and full of joy. Twice i have seen newly hatched baby sea turtles make their tiny determined way to the beach.
One day a bald eagle circled over town and recently a parade of jelly fish floated under the Bridge of Lions. Every morning the beach offers a new surprise. Like "beach glass", it is not always easy to find, often you have to look very carefully and be very patient, but it's there.
There is magic and wonder all around us if we only take the time to look. To see the simple gifts.
So look with child's eyes. See the dolphins and sea turtles, enjoy the magic, hunt for beach glass, believe in Santa.
Cherish the simple gifts.
LAK ~ Christmas 1998