By now the annual Klein Christmas Card probably needs little introduction.  It is an illustration of the current obsessions and/or pivotal events of the past year and, per the subject matter in hand, it is probably pretty clear what the dominant themes of 2012 were:  JAWS and Flying.
(NOTE: Not that the year was devoid of any other noteworthy happenings or renewed preoccupations, these were just the most prevalent).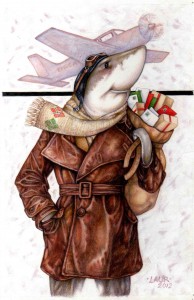 Of course seeing as both JAWS and flying have long been well known (and well chronicled) family obsessions/interests you may wonder what makes them specifically card-worthy THIS year?  And therein lies the accompanying narrative that has become as much a part of the Christmas card tradition as the actual illustration itself.
For those who need a refresher on the history of the Klein Family Fixation with JAWS please consult Christmas card 2011 "Galway Girl" (and if you have lost the explanatory notes the information can be found on my web site blog, under Background Stories). For this particular account however, we start  – literally – on the first day of the year – JANUARY 1, 2012.  That was the day Jesse and i got a hotel room near the Sanford Airport because Jess had to fly out at crack o' dawn on the 2nd to go to training for her new job as a Flight Attendant.  And for those keeping track, that is the first flying reference of the year.
This is the JAWS one – January 2nd also happened to be the day Universal Studios was planning to shut down their JAWS ride, so since we were going to be in Orlando anyway, on the 1st, one day before the ride would be lost to us forever, Jess turned to me with those big, dewey "SpongeBob eyes" (you know the ones – all round and glistening and filled with innocent hope) and asked if we could please go to Universal and ride JAWS one last time – before she jetted off on this whole new flying chapter of her life.
Well, what self-respecting (indulgent) parent could resist that logic (plus the shared obsession.  Not to mention the dewey eyes). We dumped our bags at the hotel, donned appropriate shark-themed attire, and hauled off to Universal Studios where we rode JAWS 4 times in succession (once for each movie), took photos with the shark hanging in faux Amity, bought the prerequisite souvenir mementoes, and had dinner at Bubba Gumps (keeping to the sea/fish theme).
And that little tale alone should suitably link JAWS and Flying ("like peas & carrots" , to add a little extra Forrest Gump association) and qualifies them as worthy card material, but the connection between a 37 year-old shark movie and the art of aviation continued, for us, thruout the entire year making the choice undeniable.
FEBRUARY – Jess graduated from FA training and Bob got to pin her wings on her at the ceremony.
MARCH – Jess got a JAWS themed tattoo on her thigh [Quint's boat, the Orca, and the three yellow barrels, all framed by shark jaws]. She came up with the idea, i drew the design for her.
APRIL – Bob passes his check ride (Bob's flying connection is a given, but he really did have a check ride this month so i fit the timeline perfectly. Besides, Jesse and i also call him Chief Brody).
MAY – Jess decides she wanted to learn to fly and begins taking lessons.
JUNE – Jess solos.
JULY – Jesse and i go to an outdoor showing of JAWS on the 4th of July at the Enzian Theater in Orlando  (we "drink to her leg" at the theater bar with fellow JAWS fin-atics). This was the first time Jesse ever saw the movie on a big screen.
AUGUST – Bob, Jesse and i fly to "Amity" (as in, Martha's Vineyard, where JAWS was filmed!) for JAWS FEST – a  weekend-long tribute to the movie where we got to meet actors, writers and locals from the film, check out actual locations and props, and watch the movie in the Old Whaling Church along with a guy who looked just like Quint and "Mrs. Kintner" (Bob asked her to slap him, but she doesn't do that any more).
SEPTEMBER – Jess gets the Blue-Ray DVD version of JAWS.  As well as comes home from a flying lesson with a stray airport kitten she named Piper (after her plane).
OCTOBER – Jess takes Bob on a Cross-Country flight to St. Simons Island.
NOVEMBER – Jess goes to a seminar for Private Pilot Written Exam preparation (and in a semi-related link, at least by story terms – she, Bob and i watch "Forrest Gump" at the hotel where the seminar was held).
DECEMBER –  brings us to the JAWS/Flying-themed card and the explanation behind its final design. Which i struggled with for a bit.  Originally i thought of doing one of my usual multi-image symbol-ladened things but Thanksgiving was looming and i had a ton of "real" work to do. And – frankly – i just wanted to draw something simpler than cards past  And then i thought of this illustration i had recently done for my web site.  It was intended to be the icon for a "What's New" section, done in the style of a JC Leyendecker Arrow Collar ad.  Featuring a Gnu (new), in a smoking jacket, reading the paper (The Gnus) i simply couldn't figure out how to use it on the site so the drawing just languished (tho i did eventually post a blog about it, if you want to see the influence on this card).  I love the 20s style, and the incongruous combination of animals in formal human pose, and immediately imagined a shark as an aviator – combining the events of the year with our family movie fixation and the shared aeronautic skill & talent of BK & JK (who slip the surly bonds on a regular basis).
I found a great Leyendecker reference and then just needed to figure out how to add Christmas to the mix. I discarded a couple ideas before settling on a mail sack full of holiday cards and presents (commercial aviation having come into its own transporting mail). And rather than use the period bi-wing, the plane at the top represents the type Jesse flies – a Piper Cherokee Warrior, with its own unique tail-number – October Romeo Charlie Alpha (aka: ORCA). The card's title inspiration came while thinking of possible holiday shark/JAWS reference quotes, such as: This card, swallow you whole.  Or,  You're gonna need a bigger envelope.  So….
Come on into the water and have a Merry Chrissie-mas!  I hope it's JAWsome!
LAK 2012