Or,   "TARDIS: Talieson And Robot Dog Inspired [Doctor Who Christmas] Special".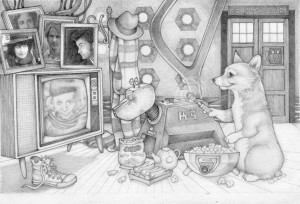 Okay.  WHO didn't see this coming? Given that the annual Klein Christmas card has come to feature significant events or current obsessions of the year, one would have had to be living in a cave (of Androzani) or locked in a Pandorica not to anticipate the 50 year Anniversary of Doctor Who serving as 2013's theme.  I mean, with the exception of last year's JAWS/Flying card the Doctor has been featured, or at least alluded to, in every Christmas card since 2008.
All that being said, however, a Doctor Who card was not a forgone conclusion – a lot happened this past year.  More aviation adventures, Hawaii, a new roof (among other house renovations), Jesse's cat moving in – there was a wealth of subject matter to choose from.  Not to mention, i had already promised Tali (Talieson, our Welsh Corgi, for those new to Klein history) that i would do a card about her.  Let's face it, the poor dog has had quite the year what with the cat foisted upon her, and the house renovation disrupting her life all Summer.  She handled every intrusion with grace and good will so the least i could do was put her in the card.  In fact, i originally pictured her surfing off Waikiki, or working as a Delta Flight Attendant (beating up the cat was also a possibility) so the whole Doctor Who thing really didn't come to me until after the November 23 anniversary special.  Then – suddenly – it seemed inevitable.  The only trick was – how to make a Christmas card out of a 6 year old Pembroke Welsh Corgi and a 50 year old British television show about a 900-plus year old Gallifreyan Time Lord.
Tali, sitting in the TARDIS (Time And Relative Dimension In Space) watching the 1st Doctor on an old TV set, came immediately to mind, followed by the obvious addition of the 4th Doctor's robot dog, K-9.  The choice of black and white pencil was another given.  The last 4 Christmas cards have all been in color, and i am currently elbow-deep in color illustrations for a new book, so i was ready for a change.  Besides, i've really missed working in my true love – #2 pencil, and the medium seemed even more appropriate considering that when Doctor Who premiered in 1963 it was in black and white.
And now that the whole convoluted, behind-the-scenes, back story, thought process is out of the way let's move on to the Explanatory Notes section describing the little pictorial elements that all have significance (at least to me).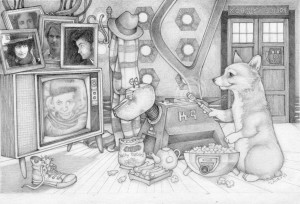 *  Starting with the TV:  As noted above, on the screen is the 1st Doctor, played by William Hartnell (1963 – 1966).  I really didn't know about the show back then, but all the timey-wimey madness started with him!  And – again – for those unfamiliar with the show, or who have recently had their memories erased by UNIT's Black Archive mind-wipe technology, over the course of the series (and one made-for-TV movie) the Doctor has regenerated into a new/different version 11 times.  The photos on top of the television represent my 4 personal favorite Doctor incarnations.
* The photos – Left to Right:  First is Doctor #4, Tom Baker (1974 – 1981) the one known best for his iconic scarf.  He was my first Doctor, discovered in college when the show was aired on PBS.
Peeking behind him is Doctor #8, Paul McGann (1996 TV movie).  He's tucked in the back because i really don't know that much about him.  To be perfectly honest, i just like him because he looks like Oscar Wilde.
In the middle is Doctor #5, Peter Davison (1981 – 1984).  He was my second Doctor, following on the heels of Tom Baker.  I thought he was cute but i particularly liked him because i knew him as Tristan from All Creatures Great and Small.
And, finally, on the Right is Doctor #10, David Tennant (2005 – 2010).  My all time favorite Doctor because he is the one that re-energized my obsession with Time Lords (and was the gateway Doctor for my daughter).
*  Tali and K-9 are sitting inside the 10th Doctor's TARDIS (his time machine).  It looks like a blue police box on the outside but the interior occasionally changes with each Doctor's regeneration (tho despite any esthetic alteration, all versions are "bigger on the inside than on the outside").
*  Hanging on the coat rack is the 4th Doctor's hat and scarf, and underneath the television is one of the 10th Doctor's shoes (because what dog, robotic or real, can resist chewing on an old sneaker).  Tali also holds the 10th Doctor's Sonic Screwdriver (which she is using as a televison remote. Question – What DID we do before those were invented???).
*  The nibbles are also Doctor themed: Jelly Babies were the 4th Doctor's snack of choice.  The tray of celery represents the 5th Doctor, because he wore a sprig of celery on his lapel.  And everything is washed down with Jackie Tyler's tea (because a good cup of tea, super-heated infusion of free-radicals and tannin, is just the thing for healing the synapses.  It's a 10th Doctor thing).  I should note that there is no special Doctor Who link to popcorn, it just seemed like an appropriate snack to eat while watching a TV marathon, but the popcorn "bowl" is the top of a Dalek, which is a Doctor nemesis originally introduced in 1963 (popularly known for their catchphrase, "EX-TER-MIN-ATE!").
As for the Christmas part of this Christmas card, it is the subject itself.  For the past few years, the TV series has done an annual Doctor Who Christmas Special, so in keeping with that tradition this card is its own Doctor/Holiday celebration (think of it as a mini, hand-held, mobile device – like an iPad or smart phone.  Only in paper).
So, whether you are being menaced by remote control Christmas trees, harangued by the best temp in Chiswick, leading the passengers of a doomed galactic cruise liner to safety, dodging Cybermen, or simply enjoying a classic sci fi holiday special ~  have a Brilliant Christmas.  And, to paraphrase the Daleks, "CEL-E-BRATE!"
Oh yeah…  and RUN!                                                                                                   LAK  2013