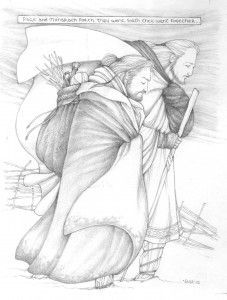 So, per tradition, there is something of a story behind this card (there's always a story isn't there?  I love a good back story), so allow me to share the explanation i wrote back in 2002, the year i drew, and shared, this Christmas card.
On one hand this is just a traditional rendering of one of my favorite Christmas carols (Good King Wenceslas, in case you missed the title) with the style and subject of the drawing inspired specifically by a wonderful ink illustration (of the same carol) done by A.J. Gaskin (1894). However, upon closer inspection you may notice something vaguely familiar (or Outer Rim-ish) about the Page and the Monarch… this is where the Jesse influence comes into play.
Or, to be more accurate, her obsession with all things Star Wars (mine too, i should add, but this particular card was Jesse's idea). Only Jesse could read the lyrics to a 149 year-old carol and make a Padawan/(Jedi) Master connection! Of course this is the same girl who, upon seeing the Long Hall of Trinity College in Ireland remarked that it looked just like the Jedi Archive Library on Coruscant. What can i tell you… i noticed that too! (Always kind of fun when interests and obsessions collide.  Even better when you can share them with your daughter).
And so, as you hum the tune to John Mason Neale's Boxing Day carol feel free to replace his opening lyric with,
"Master Qui-Gon Jinn looked out, on the Eve of Bunta,"
NOTE: We're still working on the rest of the lyrics.    LAK & JL  December 2002