I got the contract and deadline information for "Fur & Feathers" in April (2009) – the important due dates:  Sketches – July 20 (these would be the Pencil Roughs). Cover art (camera/scanner ready) – August 15.  Final art (or finished color) – December 2o.  Lots of time to get everything done… except, drawing 13 line illustrations for a children's picture book was not the only thing on my To Do List.  It never is.  I can't speak for other Graphic  and Commercial Artists or Illustrators but for me life often feels like a continuous three-ring circus, multi-tasking, juggling act.  Constantly working on one project while i wait for approvals on another, or paint to dry, or reference information to come in.  A client meeting here.  A design proposal there.  Rough sketches for Project A this day.  Finished art for Assignment B the next.  While thumbnail sketches were technically not a required step in the F&F illustration process as far as Sylvan Dell was concerned i had to do them anyway – for myself – before i could ever start working on the pencil roughs so those had to be factored into the schedule as well, along with all the  other art projects i already had on the calendar.  Projects with more pressing, or at least equally pressing, deadlines.
Two large posters depicting the various layers (and what lives there) of the Rainforest and the Ocean, and a five-wall mural for a local elementary school were the most immediate concerns.  I juggled thumbnail sketches with the finished color work on the posters through May and got the thumbnails mailed out on June 3rd; then i turned my attention to the details of the school murals, my first large-scale public painting project – a series of 5 walls – i was going to start painting the day after school closed for the summer on June 11.  I'd already come up with the rough sketches for the walls and figured it would take about a month (a week per wall – give or take) – of steady work – to complete, so the first week of June was filled with school meetings and preliminary drawing and reference work.  On Sunday, June 7 i suddenly had my first panic attack, realizing i had to have finished F&F rough pencil sketches in Sylvan Dell's hands by July 20… about the time i figured i'd just be wrapping up the murals.   Talk about suddenly being in a cold sweat!
Of course after the initial hysteria i remembered i would have every Friday, Saturday and Sunday free, because the school did not want me working in the building on those days, so i reassured myself that i could paint during the week and dedicated every weekend, from June until mid-July, to the F&F pencil roughs until those were finished.  Fortunately a good portion of the "heavy lifting" had already been done through the thumbnail sketch process so that simplified things significantly (and i'll use the drawings for Page 5 as an example of the steps, with additional descriptions supplied by my journal entries written during that period).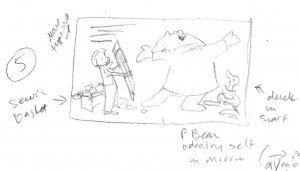 The illustration where Sophia "re-furs" the polar bear was one of those that didn't change significantly from 1st rough thumbnail to finished color.  I hit on the bear's "Ta Da" pose, with Sophia holding a mirror, almost instantly and never wavered (they don't all come that easily).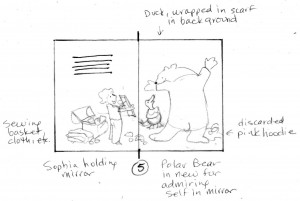 With the exception of repositioning the duck this illustration didn't change much.  I still wasn't entirely sure how i would portray the newly furred p'bear (would it be more of a hand-made garment, like a coat?, or regular fur) nor did i have a clear idea of what Sophia would look like yet, but the basic images were established.  Per my journal entry:
SUNDAY, JUNE 21 – "Worked on F&F roughs and run to B&N for a book. Today i start roughing the Fur & Feathers rough sketches up to size.  This is just the first, initial pass and won't require a lot of thought or detail, so it should be an easy project for today."
Calendar Juggling Note – The J A Crookhank Elementary School murals began on Thursday, June 11.  The weekend of the 13th – 14th was spent finishing up the Rainforest & Ocean poster art.  Rest of the week was spent painting.
SUNDAY, JUNE 28 –  "Took a few notes for the book."  That's the only note written concerning F&F but i know what it means – reference hunting.  I do a lot of reference hunting (which i shall describe in more – excruciating – detail in another entry).
Calendar Juggling Note – Continued daily mural painting during the week (finish wall #3, start on wall #4).
FRIDAY, JULY 3 – "...more work on F&F – looking up animal and kid pose references.  Started cleaning up the first rough illustrations."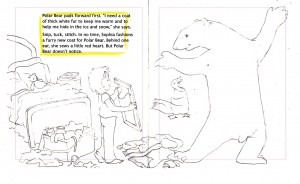 At this stage i mark out the full size book and indicate the "live area" as well as the word placement (supplied by Sylvan Del).  I always have leeway to change where the type falls, but i generally just work within the limits Sylvan Dell has set.  This is the stage where i really get to see if my thumbnail sketches fit the format.  It's also frequently the stage where i suffer my first, of potentially several, self-doubt and confidence issues.
SATURDAY, JULY 4 – "Worked on book.  Well, i put in a full day of work on the F&F roughs and true to my usual form i feel half teary, slightly frustrated, a bit overwhelmed, and basically dissatisfied.  In other words – the way i always feel at the start of a big project!  I'm still just doing the roughs (in this case, the next phase of cleaning up the enlarged rough sketches and fine-tuning the layout and design) but there are simply so many elements i feel a bit inundated.  Not only do i have to figure out the over-all best look of the page, i have to figure out the look of ALL the major characters – one of them being a little girl.  Of course i want it to be Jesse, but at this point i'll just be happy with consistent."
Part of the problem, i realized, was i needed better references poses, specifically for the little girl, to achieve stronger image placement and visual interest.  The first round of sketches were kind of static and basic, just to block out the characters, but now i needed to start adding detail (like facial features, Sophia's hair, her pajamas, etc) and more interesting positions.  In the past i had an easy, instant child model in the form of my daughter (my Creative Muse and Partner in Crime) but she had long since grown up, not to mention was away at college, so i was kind of winging things using old pictures from the photo albums (of which there are currently 44).  I was also simultaneously trying to establish the look of the main animal characters and their poses.  And don't even get me started on the background issues (backgrounds are not my strong suit, so are basically ignored for as long as physically possible).
I kept trying to remind myself that these were just the preliminary sketches and i didn't even necessarily have to have EVERY design and character question nailed down by the deadline, but i also still had to finish the 4th school wall mural and start the 5th one (which, i should note, i had not quite yet finished designing).  As so often happens with my "I have a bad feeling about this" anxieties however – and a recurring theme as you'll come to find – i might have over-reacted just a teensy-weensy wee little bit.  Because…
SUNDAY, JULY 5 – "... i went back to the F&F roughs and actually had better luck.  I'm still far from solving all the issues, but i'm a little happier with the over-all look.  Still have no clear idea about what to do with the background, and a couple of the illustrations need some major rethinking, but over-all i feel a bit better."
Calendar Juggling Note – Finished wall #4 on the 8th and came up with a great idea for the 5th – and LAST wall!  Also this week – went to Orlando to paint a life-size leatherback sea turtle statue.
SATURDAY, JULY 11 – "...managed to fix the one illustration layout i wasn't entirely happy with and got the line of animal shapes roughed in for another page.  Also – ran into R. S. [the daughter of a friend] and asked if she'd do some kid reference poses."
Calendar Juggling Note –  The Crookshank murals were finished on Monday, July 13, with a protective sealant applied  the next day.  Another run to Orlando to work on the sea turtle statue and a day spent on a rush art  assignment that came in.  Oh, and the final "Fur & Feathers" pencil roughs were mailed this week as well!