I fully intended to write all sorts of descriptive and explanatory posts prior to each of the various book talks, signings, and  events i had the past couple of months and yet here we are – down to the last event of the year and i am only now posting the first announcement.
And this is not really even the actual announcement. This is more of a place saver. Think of this as just an introductory tease.  A trailer if you will. A little something to spur your interest and hopefully arouse your curiosity for additional information.
And – basically – because i really just wanted to put a different picture on my blog.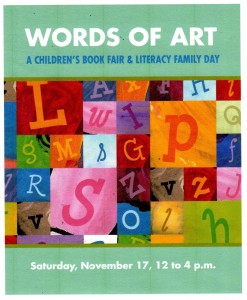 I will be joining other local authors and illustrators at the Cummer Museum, in Jacksonville, FL, on Saturday, November 17, to share crafts and activities, introduce our books, and  talk to children and families about our love of stories and art and words.  I fully intend to write in more detail between now and then (or such is my optimistic hope), but in the interim…
Children. Books. Art. Words. Museum. Galleries. Gardens. Music. Activities. Food. Local authors & illustrators. And a beautiful view of the river. Really – what more needs to be said!